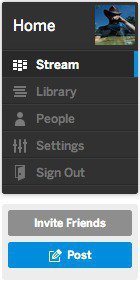 @milenskaya so: 291195841992065025 – /me so: 291257406988619779
Aber hej, stimmt! myspace – unser aller _ erstes Social Network – ist nicht wiederzuerkennen. Mein Eindruck: eine Mischung aus dem alten Virb (die, die jetzt nur noch profen Netz-Präsentations-Speicher anbieten), Spotify (ein bisschen) und einer JQuery Spielweise (irre, was manInnen da alles rumsliden kann).
Kleiner Rückblick: anno 2009 muss es gewesen sein, als im Zuge der Ära "neue Bewirtschaftung" im new economy Amt auch ein paar hippe Leute von myspace im Umspannwerk weilten. Nicht auszudenken, was da hätte in guter alter T-$(hier_eines_der_telekom_unternehmen_einsetzen) draus werden können, vielleicht. Oder war es nur ein loses Kennenlern-Meeting? Ich weiss es nicht mehr. /cc @marsti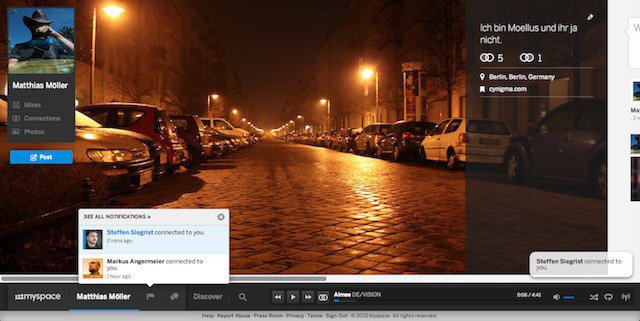 the new myspace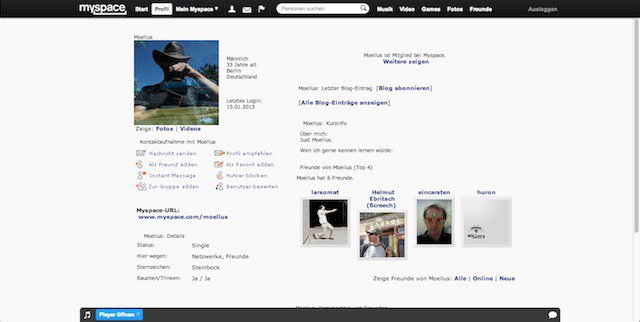 the current myspace

hyppsch suchen und finden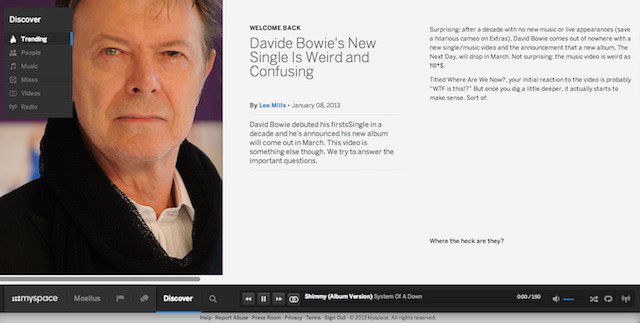 der schon wieder
Erste Mission schon completed: Profil anpassen und #awesome Hintergrund ins Internetz reinladen – check. So, und jetzt ihr!
https://twitter.com/Milenskaya/status/291195841992065025
https://twitter.com/moellus/status/291257406988619779
http://www.golem.de/news/redesign-das-neue-myspace-ist-da-1301-96929.html
https://www.google.de/search?q=idmedia+neue+bewirtschaftung&oq=idmedia+neue+bewirtschaftung
https://new.myspace.com/moellus