Weil ihr es alle schon für eure data contrib und backup purposes am Laufen habt, investierte ich just auch mal wieder ein paar Minuten meiner kostbaren Zeit, um mich mit diesem Arbeiter-und-Bauern-git-Aufsatz zu beschäftigen. git-annex klingt bisschen wie Sanitärabteilung im Baumarkt, ist aber die auf git aufbauende und in Haskell (siehe auch xmonad) geschriebene "so wie Dropbox, nur open source, bisschen anders und noch besser" Lösung vom Debian-Tüpen Joey Hess. (Laut letztem #binaergewitter wohnt der im Wald und hackt auf altem Gerät rum. #wild)
Er beschreibt seine Kreation so:
"git-annex allows managing files with git, without checking the file contents into git. (…) git-annex is designed for git users who love the command line. For everyone else, the git-annex assistant turns git-annex into an easy to use folder synchroniser." (Also auch was für Mutti.)
"Hä? Aber ich kann doch meinen ganzen Krempel auch so ins git reinwerfen!" – For sure! Aber der metadata-only Ansatz von git-annex soll machen, dass das Repository nicht rasant wächst, da nur #easypeasy mit Verweisen auf statt mit urlaubsvietschohs.tar itself hantiert wird.
Ich empfehle allen Bahnhofs-Verstehern dieses – etwas längere – #fosdem Filmchen: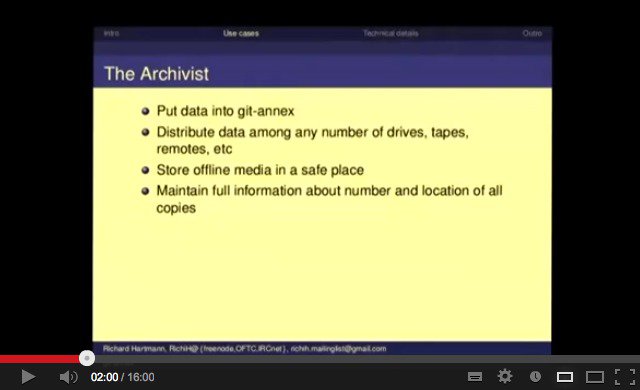 Habe mir das entsprechende PoserPackage mal aufs PoserBook gepatscht und bisschen mit dem git-annex assistant herumgespielt. Klick, klick – anleg – aha, OKee – verstehe – huch! – Abkackung beim Setup eines ssh:// Volumens, aber egal. Spätestens mit dem übernächsten Crowdfunding wird das Tool dann bestimmt richtig geschmeidig sein. Leicht berauscht von den bis dato erahnten Möglichkeiten ein dickes #rtm.
Habta? Dann hier eintragen.
http://xmonad.org/
http://www.youtube.com/watch?v=IjHqIgPRQyA
http://git-annex.branchable.com/install/OSX/
https://git-annex.branchable.com/assistant/
http://git-annex.branchable.com/design/assistant/blog/day_288__success_stories/