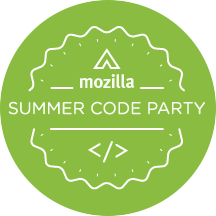 Die Mozilla-Web-Kommunisten möchten im Rahmen ihrer Summer Code Party (jubel!), dass wir uns alle (wieder) bisschen mehr mit dem Web ausserhalb von Fratzenfibel und Co beschäftigen – selbst web maken eben. (OKee, @derpraktikant kann schon horizontal zentrieren und hat es auch sonst drauf, der braucht nicht.) Selber machen statt nur benutzen, brain juhsen statt warten, bis es ein entsprechendes Fietscha bei Suckerbörg gibt. Mission:
The goal: help millions of people move from using the web to making the web. With new tools to use, projects to create, and events to join, we want to help the world increase their understanding of the web and take greater control of their online lives.
Ich verstehe und begrüsse das absolut. Und überhaupt: ständig irgend so ne wilde Idee – Ironbloggerberlin Memberlin @thornet schrub da vor einer Weile was über das Mozilla Projekt Popcorn zum Beispiel.


awesome: Mozilla baut nicht nur Browser.
Damals als ich noch ein junger Hohmpädsch-Tüp war, gab es SelfHTML – der eine oder die andere Ergraute wird sich sicher erinnern. Ganz auf die notepad.exe Ebene muss sich der glückssüchtige Netz-Bürger aber nicht herabbegeben, Browser reicht: Thimble ist ein WYSIWYG Dingsbums – "Start from scratch" oder "Pick a project".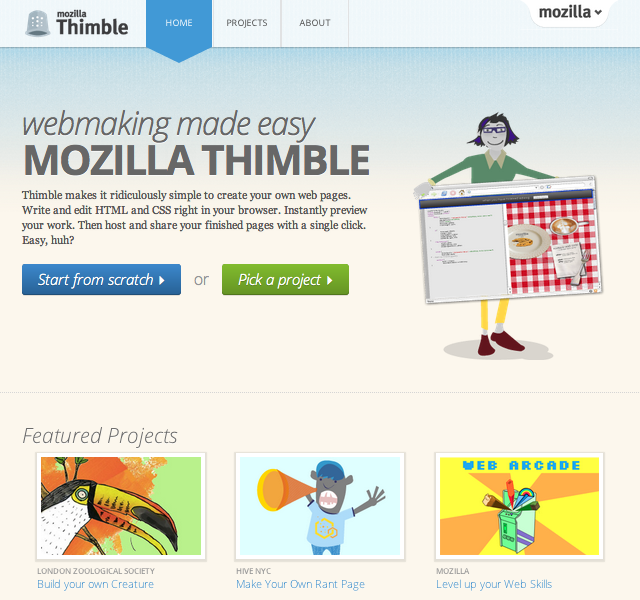 lörning web basics
Hej, POS Schrägstrich Informatik-Unterricht, can u hear this?