Na das wurde ja irgendwie Zeit: auch Flattr bietet nun an, einge der common Mitmach Engines (z.B. Fratzenfibel, SoundCloud, GitHub, Vimeo) mit sich selbst zu konnektieren. Weil: das konnte ja zum Beispiel SuperFav auch schon seit einer Weile.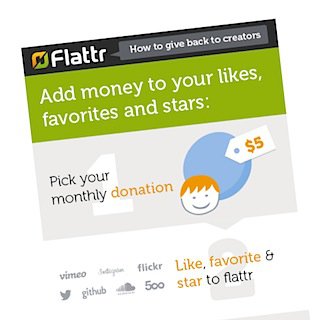 Apropos: "Wollten die nicht ihren Code umkrempeln und nach Pause wieder durchstarten?" – dachte ich gerade noch und lese auf deren Internetz das:
"Our work here is done." denn "Not that we finally finished the rewrite of the code base. We were almost finished though. But sometimes change comes faster than expected. Flattr expanded the possibilities of your settings in your own Flattr account."
Danke, SuperFav Macher! Good job.
Und nun – konnektiert mal schön, ich hab schon. :)
PS:
Ej, @horax – und dein App.net kannste auch konnektieren!
http://blog.flattr.net/2013/03/launching-new-flattr-add-money-to-your-likes/
https://flattr.com/settings/connections
http://superfav.com/